OCA National Convention Forges Ahead: A New Legacy for AAPI Leaders of Tomorrow
OCA - Asian Pacific American Advocates conductedits 43rdAnnual National Convention at the Westin Jersey City Newport in Jersey City, NJ this past month. The four-day event ran Thursday, July 21 through Sunday, July 24 and proved highly successful in engaging adiverse audience of Asian Americans and Pacific Islanders (AAPIs) forprofessional, personal, and community development. Throughout the convention, OCA also honored the achievements of AAPI leaders, and celebrated the legacy and future the organization.
Traditional Asian American Dancers at Thursday's Welcome Reception
This year's convention counted a diverse and prominent group of AAPI elected officials in attendance, including Congresswoman Grace Meng; Jersey City Municipal Council President Rolando R. Lavarro; West Windor Township Mayor Shing-Fu Hsueh;Mahwah City Councilman Jonathan Wong; andNew York State Assemblyman Ron Kim.
Members of OCA - NJ on the Friday Night Event Dinner Cruise
The theme this year was "Forging Ahead: Legacy, Advocacy, and Activism," whichfocused on advancing AAPI issues by embracing AAPI political identities to forge a political legacy for future generations. National President Leslie Moe-Kaiser, when addressing the annualAwards Gala audience, stressed the need for building coalitions with other communitiesof color and connecting OCA's activism with intersectional advocacy.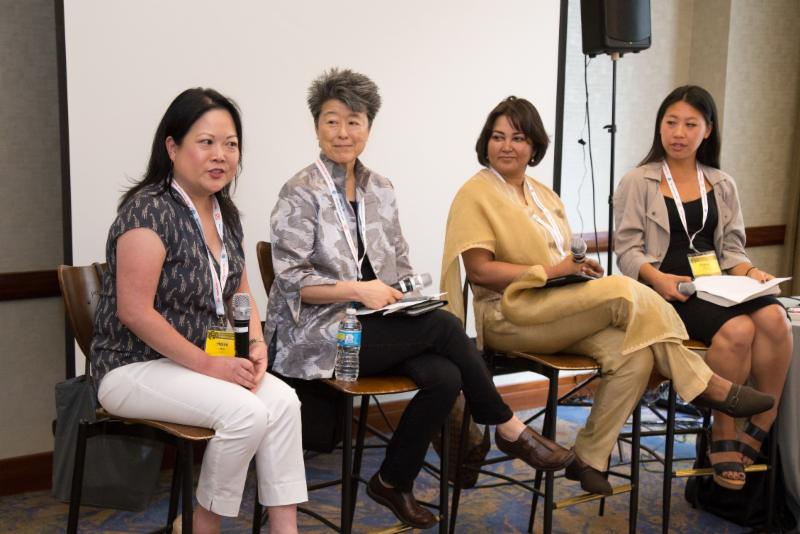 A panel on the AAPI Women's Track
This message was reinforced throughout theconvention workshops, where panelists and moderators representeda broad view of ethnic experiences and backgrounds.Intersectional workshops included a convention workshop track devoted to AAPI Women's issues, as well as a panel for AAPI parents on accepting LGBTQ children. These and related events mark a new chapter in the 40+ year timeline of OCA's National Convention.
Summer 2016 Interns at the Gala
OCA is proud to celebrate its decades of legacy, advocacy, and activism. As we forgeahead, we continue to chart new courses for our future leaders. In light of the innumerable achievements OCA has made this year, we would like to thank
our donors and sponsors for their unwavering support:
| | |
| --- | --- |
| | |
| | OCA National President Leslie Moe-Kaiser addresses the Convention Gala |
AARP
American Honda Motor Company
AT&T
Buick
Caesars Entertainment Corporation
The Coca-Cola Company
Comcast/NBCUniversal
DHC Auto Group
Ford Motor Company
Hycroft
IW Group, Inc.
McDonald's USA
MGM Resorts International
Welcome Reception - Bronze Level
Nielsen
Shell Oil Company
Sodexo
Southwest Airlines
State Farm®
United Health Care
UPS
Verizon Communications
Wells Fargo
Thanks to all our members, supporters, staff, and volunteers for another successful, inspiring Convention. See you all next year in Sacramento, California -- at the 2017 OCA National Convention!